Water Polo Canada Women's and Men's Senior and 17U National Teams Qualify for their Respective World Championships
---
---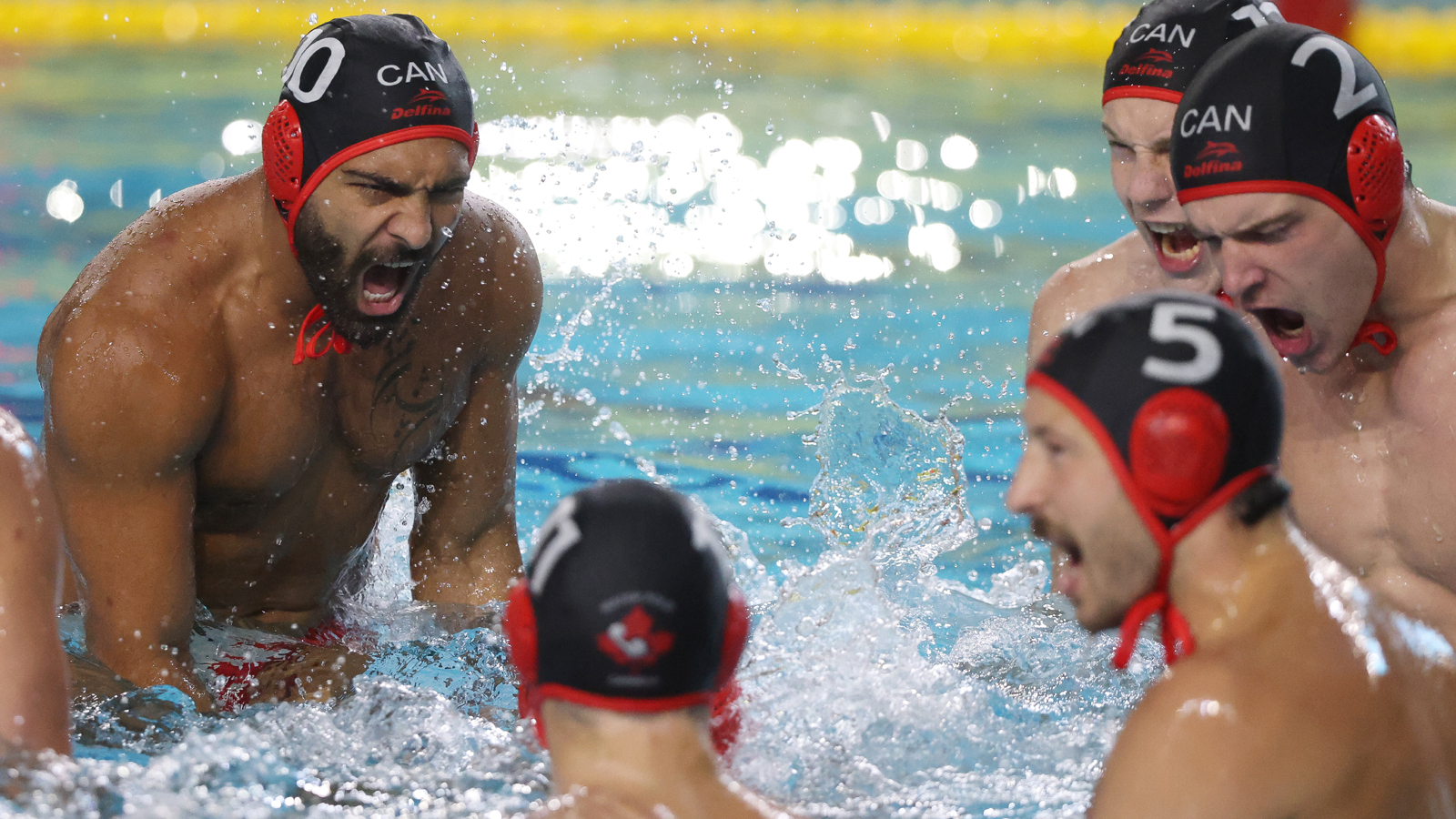 ---
They earned berths following the 2023 PanAm Aquatics Water Polo Championships held last week in Brazi
Ottawa, April 11, 2023 - The Water Polo Canada Women's and Men's Senior National teams both won gold medals at the 2023 PanAm Aquatics Championships held last week in Bauru, Brazil, and therefore qualified for the 2023 World Aquatics Championships, which will be held July 14-30 in Fukuoka, Japan, and will be the first qualifying competition for the Paris 2024 Olympic Games in the sport of water polo.
In the 17U age category, both of Canada's teams also qualified for the World Aquatics 2024 Youth World Championships (dates and location to be confirmed) after the women's team won the bronze medal in Bauru and the men's team finished just off the podium, in fourth place.
A perfect performance by the Women's Senior National Team
On the women's senior side, Canada had a perfect tournament, winning every one of its five games, including a 16-11 victory against Brazil in the final. Argentina finished in third place.
After scoring 19 goals, Canada's captain Emma Wright from Whitby, ON, was named Most Valuable Player of the tournament.
"We are very happy with our gold medal result and with qualifying for the World Championships this summer," said Wright. "Our goal for this tournament was not only to win the gold medal, but also to make improvements each game as a team, which we were able to do. We are all looking forward to continuing this trend at World Championships!"
Close tournament on the Men's side
On the men's side, Canada also won the gold medal, finishing the tournament in first place with two wins and two losses, the latter two coming against Argentina, including the last one in a shoutout. Brazil and Argentina respectively took the second and third spots in the final ranking.
Jérémie Côté from Pointe-Claire, QC, was named the Most Valuable Player of the tournament.
Canada's captain Jérémie Blanchard from Longueuil, QC, noted that the Canadian team gained valuable experience during the tournament.
"I'm very proud of the way we played and managed to achieve our goal," said Blanchard. "Some new younger players had a great first tournament and are now an important part of this group. We achieved our objective to qualify for the next World Championship and to finish first in order to have a better draw for our group. It's been a short tournament with some highs and some lows, but we managed to stay focused and keep the same level of intensity throughout the week. The consistency in our level of energy is what got us through this tournament and that is what will bring us success in the future. We can now take the time to recover from this week of intense competition and start getting ready for the World Championship in July."
A bronze medal for the Women's 17U National Team
Canada's men and women also qualified at the 17U level, in this case for the World Aquatics 2024 Youth World Championships. The dates and location for that competition have yet to be confirmed.
The Canadian 17U Women's National Team came up with three wins and two losses in the preliminary round, before losing 11-10 to Brazil in the semi-finals. In the bronze medal game, Canada crushed Argentina 18-7.
"I think we played really well and that we really came together as a team," said the Women's 17U Team captain, Brooklyn Plomp from Ottawa, ON (Diablo Alliance/Fraser Valley Water Polo Club). "Obviously, there is room for improvement, but there will always be room for it. Personally, I learned how to work as a team, with people coming from all over Canada and with a lot of players that I hadn't played with before, but rather only against, and I learned how to best work and play with them."
"It was an honour to lead this generation of athletes," said Women's 17U Team Head Coach and former Senior Women's National Team captain Krystina Alogbo, who was part of Water Polo Canada's first coaching staff since 1995 to be comprised entirely of women and including Christi Bardecki (Toronto, ON, Toronto Triggerfish/Toronto Water Polo Club) and Raine Paul (Spruce Grove, AB - Edmonton Tsunami Water Polo Club/Surrey Water Polo Club).
"There was some outstanding raw talent in this squad and it was great to watch them grow and develop. This program is the first on a long road and we hope to be able to continue to provide learning opportunities for these athletes to advance on the international stage. I would like to offer a large thanks to the club coaches and club programs for continuing to commit so much time to our young athletes, and for providing excellent foundations for us to work with when they reach this stage."
Men's 17U National Team just short of the podium
On the men's side, the Canadian Men's 17U National Team finished just off the podium, in fourth position, after remaining undefeated in the preliminary round with a perfect record of four wins. The Canadian team then suffered two losses in the final rounds, 17-10 in the semi-finals against Brazil and 15-5 against Argentina in the bronze medal game.
"In my honest opinion, I'm super disappointed with our placement," said Canada Men's 17U Team captain Austin Hexter from Surrey, B.C. (Fraser Valley Water Polo Club). "I feel we should have won a medal, but we can't change that now. To play in front of tremendous crowds, even if they weren't cheering for us, was a highlight. It allowed me to play my game and to succeed. I learned that every game is a performance. You've got to show up for every game and play every single one of them as if it were your last. We can't take any of these games for granted. I love my team; we are all family. I feel super blessed to have been on this team and I can't wait for next year and hopefully to play with these guys again."
"It was a great tournament for Canada in terms of where we are at as a country," added the Men's 17U Head Coach Bogdan Dubrovskiy from Toronto (Mavericks Water Polo Club). "It was great to work with this group of athletes who were all coming from strong clubs and strong programs. I'm really thankful to all the club coaches who put in the work to let us coach these athletes. It was a real pleasure to work with them and they are world-class human beings. All we can do now is focus on our Youth World Championships and get better every single day as we return to Canada."
Canadian Teams at the 2023 PanAm Aquatics Water Polo Open and 17U Championships
Women's Senior National Team
Bakoc, Verica (Toronto, ON)
Cowan, Ella (Stony Plain, AB)
Crevier, Axelle (Montréal, QC)
Ferguson, Ashley (Pointe-Claire, QC)
Jaffe, Rachael (Toronto, ON)
Lemay-Lavoie, Elyse (Montréal, QC)
Lizotte, Myriam (Gatineau, QC)
McDowell, Blaire (Fernie, B.C.)
McKelvey, Hayley (North Delta, B.C.)
Mimides, Maria Eleni (Marilia) (Glyfada, GRE, & Toronto)
Paul, Kindred (Spruce Grove, AB)
Van Dyke, Adrien (Regina, SK)
Wright, Emma (Whitby, ON)
Men's Senior National Team
Blanchard, Jérémie (Longueuil, QC)
Constantin-Bicari, Nicolas (Repentigny, QC)
Côté, Jeremie (Pointe-Claire, QC)
Djerkovic, Bogdan (Ottawa, ON)
Diacenco, Ion (Montréal, QC)
Gardijan, Aleksa (Gatineau, QC)
Halajian, Matthew (Montréal, QC)
Joudrie, Bryant (Calgary, AB)
McKnight, Brody (Regina, SK)
O'Donnell, Jason (Montréal, QC)
Patterson, Gaelan (North Vancouver, B.C.)
Radenovic, Milan (Montréal, QC)
Soleimanipak, Aria (Montréal, QC)
Support Staff :
Women's Senior National Team
Head Coach: David Paradelo
Assistant Coach: Cora Campbell
Massage Therapist: Manon Prieur
Physiotherapist: Brian Li
Men's Senior National Team
Interim Head Coach: Gyula Toth
Assistant Coachs: Rodrigo Rojas and Bogdan Dubrovskiy
Athletic Therapist: Serena Finlayson
Team Manager: Mitch Kaufman
Water Polo Canada 2023 Women's Youth (17U) National Team
Jaya Basu (Montreal, QC - CAMO)
Cianne Benjamin (Toronto, ON - Shadow Water Polo Club)
Natalia Blazevic (Vancouver, B.C. - Pacific Storm Water Polo Club)
Penny Cowan (Stony Plain, AB - Edmonton Tsunami Water Polo Club)
Abigail Folk (Ashburn, ON - Mavericks Water Polo Club)
Andjelina Gavrilovic (Surrey, B.C. - Fraser Valley Water Polo Club)
Shaya Ghasemzadeh Oghyani (Oakville, ON - Mavericks Water Polo Club)
Sydney Krushen (Regina, SK - Team Sask)
Tasha Kulenovic (Vancouver, B.C. - Pacific Storm Water Polo Club)
Nicole O'Neill (Calgary, AB - Oaks Christian/Calgary Renegades)
Brooklyn Plomp (Ottawa, ON - Diablo Alliance/Fraser Valley Water Polo Club)
Melania Segulja (Burnaby, B.C. - Surrey Water Polo Club)
Alexandra Stoddard (Abbotsford, B.C. - Fraser Valley Water Polo Club)
Makayla Ulmer-Lutudromu (Regina, SK - Team Sask)
Maddie Watson (London, ON - Forest City Water Polo Club)
Alternates
Taya Bumpas (Regina, SK - Team Sask)
Riley Milne (Burnaby, B.C. - Pacific Storm Water Polo Club)
McKenna Pineda-McLean (Calgary, AB - Calgary Renegades)
Anna Ulmer (Regina, SK - Team Sask)
Head Coach: Krystina Alogbo (Montreal, QC)
Assistant Coaches:
Christi Bardecki (Toronto, ON - Toronto Triggerfish/Toronto Water Polo Club)
Raine Paul (Spruce Grove, AB - Edmonton Tsunami Water Polo Club/Surrey Water Polo Club)
Water Polo Canada 2023 Men's Youth (17U) National Team
Kai Brierley (Westmount, QC - CAMO)
Joseph Chiasson (Montreal, LaSalle borough, QC - CAMO)
Tate Falconer (Hamilton, ON - Mavericks Water Polo Club)
Parker Forsberg (Abbotsford, B.C. - Fraser Valley Water Polo Club)
Austin Hexter (Surrey, B.C. - Fraser Valley Water Polo Club)
Nathan Johnson (Abbotsford, B.C. - Fraser Valley Water Polo Club)
Jason Joseph (Montreal, QC - CAMO)
Ivan Khramtsov (Mississauga, ON - Mavericks Water Polo Club)
Sawyer McCormick (Calgary, AB - Calgary Torpedoes)
Sean O'Neill (Calgary, AB - Oaks Christian)
Jacob Rogers (Calgary, AB - Calgary Torpedoes)
Reid Tatemichi (Regina, SK - Team Sask)
Colin Thomas (Toronto, ON - Shadow Water Polo Club)
Marko Todorovski (Mississauga, ON - Mavericks Water Polo Club)
Nolan Ung (Calgary, AB - Calgary Torpedoes)

Alternates
Ilya Belyaev (Langley, B.C. - Fraser Valley Water Polo Club)
Adrien MacDonald (Longueuil, QC - CAMO)
Zander Velestuk (Regina, SK - Team Sask)
Head Coach: Bogdan Dubrovskiy (Toronto - Mavericks Water Polo Club)
Assistant Coach: Maxime Crevier (Montreal, QC - CAMO)