Water Polo Canada Men's National Team finishes 12th at the 2023 World Aquatics Championships
---
---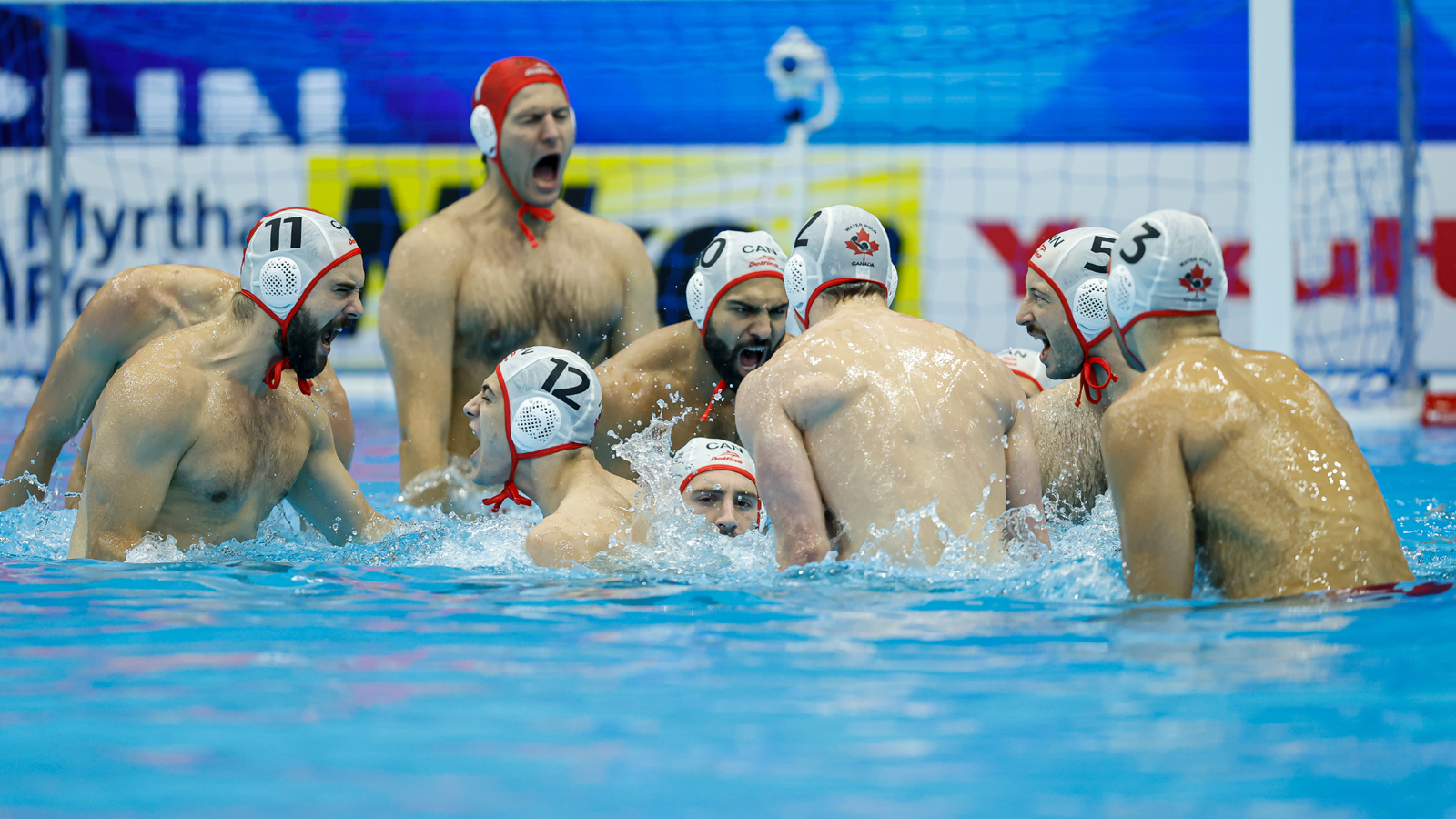 ---
Ottawa, July 27, 2023 - The Water Polo Canada (WPC) Men's National Team closed out the 2023 World Aquatics Championships held in Fukuoka, Japan, with a 12th-place finish overall after losing to Japan in its last match of the tournament.
It was the Canadian team's best performance on the men's side at the World Aquatics Championships since the 9th-place result earned in 2015 in Kazan, Russia. At the 2022 World Aquatics Championships in Budapest, Hungary, Canada took the 16th spot after the squad had to withdraw because of COVID-19 cases.
The Canadian Men's Team opened their tournament in Fukuoka with a 13-10 win against China, but lost their following matches, against Italy (silver medalists in 2022), France, the USA (6th in 2022 and 2nd at 2022 World League Super Finals), Croatia (reigning European champions and 4th at 2022 World Championships), and Japan (9th in 2022).
"Overall, I think there are a lot of positives that we can grow from," said the WPC Men's National Team Head Coach, Pat Oaten. "I think we also learned that there are crucial mistakes that we can't make at this level because we paid dearly for them. A lot of learning went on, some positives, but there are some things we really need to focus on as we prepare for the next two big championships."
"This 12th position is one of the team's best results since 2015 and I'm really happy with some of the things we did," added team captain Jérémie Blanchard. "This tournament also showed us that we have weaknesses that we absolutely need to work on if we want to reach higher objectives. We learned many things and we are now going home to prepare for the next tournament."
"We're very proud of the overall progress shown by our Men's National Team," summed up WPC's High Performance Director, Olivier Pineau. "They faced tough losses, but they also had several moments of brilliance, in addition to demonstrating significant improvement and promise in various phases of this tournament. This was only the first test of the Olympic qualification period, and the team's first full participation in World Championships in six years. Our men were also facing teams which had cumulated a significantly higher number of international matches in the lead-up to these Championships, and so every international match is of key importance in providing us with crucial experience and valuable lessons that are needed in order to progress to the next level.
"On another positive note, it's encouraging to witness such a good balance of performances from seasoned players and from some younger talents emerging on the squad. There are tons of work ahead, but also lots to build on here, and we will have the opportunity to make tangible improvements over the next few months of centralized team training, with our sights solidly set on Santiago, Doha and beyond."
Road to Paris 2024
The 2023 World Aquatics Championships were the first opportunity for all countries to earn a spot among the 12 teams that will compete in the men's tournament at the Paris 2024 Olympic Games.
At the 2023 World Aquatics Championships, Greece and Hungary qualified for Paris 2024 by reaching the final in Fukuoka.
The next qualification opportunity for the Canadian team will be through winning gold at the Santiago 2023 Pan American Games set to be held this fall, in a tournament where their top opposition will likely come from Team USA. In Fukuoka, Canada had a closely contested match against the USA, which ended by a score of 13-10.
"The Pan American Games are coming in three months and we'll prepare using everything that we learned from this tournament to make sure we are ready," said Jérémie Blanchard. "We all believe in our chances after the way we played at the Worlds and particularly against the USA. This tournament showed us that this is doable. Now it's time to make some changes individually and as a team in order to be better and to get ready for the Pan American Games, in order to do our best and to qualify for Paris 2024."
"I think we will be extremely competitive and that we can give a strong performance against every team," said Pat Oaten. "I feel confident with this group. The reality is that we need to take it one game at a time. Argentina, USA, Brazil; they are all good teams, so we can't have any lows."
The final opportunity for the Canadian Men's National Team to qualify for Paris 2024, if necessary, will be to finish among the top four teams at the 2024 World Aquatics Championships in Doha, Qatar, February 2-18, among the nations that will not have already qualified for the Olympic Games. A top 2 finish at the Santiago 2023 Pan American Games should be enough to qualify the team for Doha.
Water Polo Canada Men's National Team for the 2023 World Aquatics Championships
BLANCHARD, Jérémie (Longueuil, QC)
CONSTANTIN-BICARI, Nicolas (Repentigny, QC)
CÔTÉ, Jérémie (Pointe-Claire, QC)
DJERKOVIC, Bogdan (Ottawa, ON)
D'SOUZA, Reuel (Port Coquitlam, B.C.)
GARDIJAN, Aleksa (Gatineau, QC)
GERAKOUDIS, Nikos (Montréal, QC)
HACHEM, Leo (Montréal, QC)
HALAJIAN, Matthew (Calgary, AB)
LAPINS, David (Gatineau, QC)
MCKNIGHT, Brody (Regina, SK)
PATTERSON, Gaelan (North Vancouver, B.C.)
RADENOVIC, Milan (Montréal, QC)
SOLEIMANIPAK, Aria (Montréal, QC)
Support Staff
Head Coach: Pat Oaten
Assistant Coach: Gyula Toth
Athletic Therapist: Sunny Marshall
Team Leader: Mitch Kaufman
High Performance Director: Olivier Pineau
More information regarding the male athletes is available on Water Polo Canada's website at https://waterpolo.ca/content/senior-mens-national-team.
- 30 -
Information:
communications@waterpolo.ca