LTAD for Athletes and Parents
---

Prior to reading this section it is recommended that you review the LTAD Overview section and understand the defined terms.
Athletes in water polo, and all sports, progress through many phases in life prior to reaching excellence (or expert performance) in their adult years. Research states it takes thousands of hours of deliberate practice to become an expert in any field - sport, business, art, etc. Deliberate practice is training specific skills in a controlled environment focusing on improving each detailed movement of skill with feedback from a coach or an understanding of the corrections needed to make by analyzing ones errors. In sport, it takes more than just "Xs" and "Os" to become an expert. There is the physical component (i.e. strength, stamina, flexibility, speed, psychology, etc.). And it all begins at childhood in the park, in the summer pool, in gym class and plain old fun unstructured play with parents.
This part of life where we learn how to be active and how to move occurs between the ages of 0 and 12 years old and is called Physical Literacy. Physical Literacy is the concept that children must learn how to move properly when they are in preschool and elementary school. Contrary to popular belief, no one is a "natural born athlete." The idea is if we give children the opportunity to do the right physical activities at the right time in their development, more of them will enjoy getting active and stay active. They will develop more confidence in their bodies and better sport skills.
Just as it is important to learn languages at a young age it is important to learn how to swim, walk, run, jump, throw, catch, skate, kick, etc. These are what are termed as Fundamental Movements Skills (FMS). Children need to learn the FMS before they learn fundamental sport skills. Fundamental sport skills are the movement skills applied to a sport situation - passing and shooting a water polo ball in deep water and horizontal movement in the water for example. If they are introduced to sport skills before movement skills, they often struggle to learn the sport skills.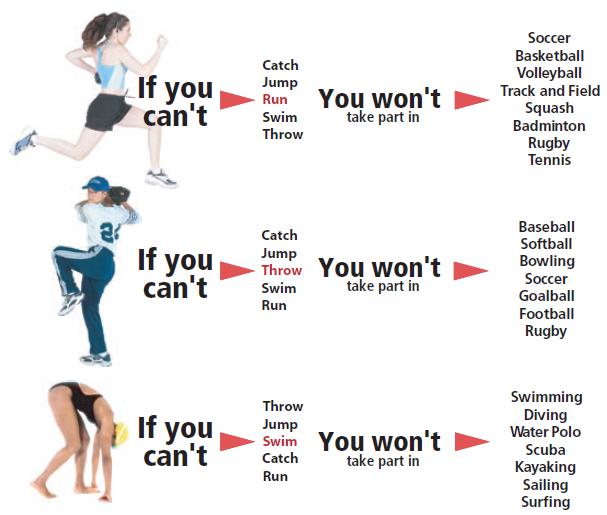 There are three LTAD stages in which relate to Physical Literacy:
LTAD Stage

Philosophy

Stream

Where

Maturation/Age

Active
Start

Getting Wet

Physical Literacy


Home, school, swimming lessons

Early childhood

0-6

FUNdamentals

Fun

Physical Literacy

Home, school, ILWP, swimming lessons, club

Early/Late childhood & Early puberty

M 6-9; F 6-8

Technical
Foundations

Lay the foundations

Physical Literacy

Home, school, ILWP, swimming lessons, club

Late Childhood & Early puberty

M 9-12; F 8-11
With the acquisition of the FMS and fundamental sport skills a child will be able to move onto the next stage of the LTAD with ease, and more importantly, have the confidence in their physical movement abilities to remain an active healthy Canadian for life.
Although it is important to start learning the fundamental water polo skills before the age of 12, it does not mean that you cannot start playing water polo at 13 years old. Although, chronologically you may not be in the approximate age for the Technical Foundations - your lack of water polo experience will place you in this stage. Which means you will need to learn the Technical Foundations skills prior to moving onto the Competitive Foundations skills. This may not impact which league, tournament and age group as these are determined by chronological age (i.e. 14 and under), however; how this athlete is coached will be different than their peers who are truly Competitive Foundations athletes. Each LTAD stage of development has different recommendations for how to train athletes and how much they should be competing. All of this is with the intent of following the path of the thousands of hours of deliberate practice. The majority of learning and the development of the physical abilities occur mostly in a controlled practice environment and not in a competitive environment. Although competition may be fun, sometime less is more!
For those who do not want to play water polo in the Excellence stream, there are plenty of opportunities for you to play competitive water polo and use water polo as a vehicle for lifelong participation in physical activity. You may enter water polo as a player at any age of your life in what is called the Competitive for Life and the Active for Life streams.
LTAD Stage

Philosophy

Stream

Where

Maturation/Age

Competitive
Foundations

Build the competitive base

C4L
Excellence


Club, Provincial Team, National Team

Early/Late puberty

M 12-16; F 11-15

Train to
Compete

Competition

Excellence

Club, National Team

Late puberty & Early adulthood

M 16-19~; F 15-18~

Train to
Perform

Road to excellence

Excellence

NCAA, Semi-Pro, Professional, National Team

Early adulthood & Adulthood

M 19-15~; F 18-23~

Living to
Win

Own the podium

Excellence

Club, University, Masters

Aduthood

M 25+(20+);

F 23+(18+)

Competitive for
Life

Training and competing

C4L

Club, University,

Masters

Early/Late puberty

through adulthood

Approx 13+

Active for
Life

Water polo for life

A4L


Club, Middle/High School, Masters

Late puberty through adulthood

Approx 16+