Water Polo Canada introduces its final roster for the 2023 World Aquatics Women's U20 (junior) Championship
---
---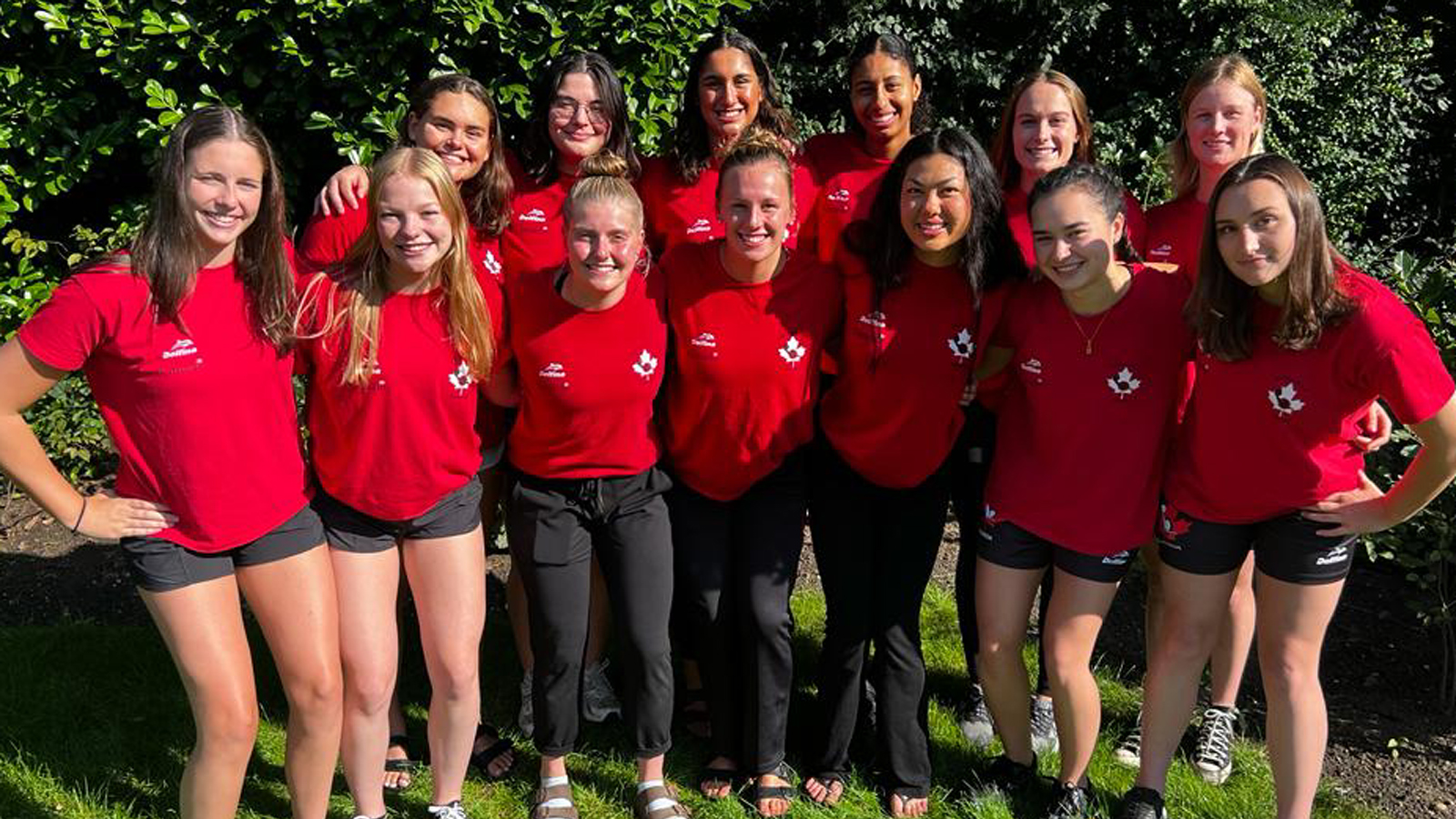 ---
The competition will be held September 8-15 in Portugal

Ottawa, September 1st, 2023 - Water Polo Canada is proud to announce the final roster comprised of the 13 athletes who will represent Canada at the 2023 World Aquatics Women's U20 (junior) Championship to be held September 8-15 in Coimbra, Portugal.
The World Aquatics Women's U20 (junior) Championship, which is held every two years, will showcase athletes under the age of 20 representing 15 countries.
From the original roster announced earlier this year, the only change is Leah Levin, who will replace Alicia Petkov. Petkov has had to undergo surgery.
The 13-player squad will be led by Head Coach Ethan D'Souza, who is currently Assistant Coach with the Arizona State University Women's Team. He will be assisted by Marina Radu, Head Coach for the Edmonton Tsunami Water Polo Club, while Eric Graham will act as Team Manager.
The Canadian team will be in Group D and will face France and Chile in the round robin stage. The first game will be on September 9 at 10:30am (local time) against Chile, followed by the matchup against France on September 10 at 1:30pm (local time).
At the last World Aquatics Women's U20 (junior) Championship in which Canada took part, in 2019 in Portugal, Canada came in 10th overall. Current Water Polo Canada Women's Senior National Team Talent Pool athletes Verica Bakoc, Marianne Bouchard-Côté, Floranne Carroll, Daphné Guèvremont, Myriam Lizotte, Blaire McDowell and Adrien Van Dyke were all members of that team. Due to the COVID-19 pandemic, Water Polo Canada did not send a team to the 2021 edition in Israel.
Canada's best-ever performance at the World Aquatics Women's U20 (junior) Championship was a gold medal in 2003.
More details regarding the 2023 World Aquatics Women's U20 (junior) Championship are available at https://www.waterpolo.ca/content/junior-womens-world-championship.
Canadian Team at the 2023 World Aquatics Women's U20 (junior) Championships
AHMAD, Lashyn (Montréal, QC-Edmonton Tsunami)
BROWNE, Serena (Pointe-Claire, QC-Stanford University/DDO)
BURLOCK, Alia (Edmonton, AB-University of Hawaii/Edmonton Tsunami)
COWAN, Ella (Stony Plain, AB-Edmonton Tsunami)
FEATHERSTONE, Katherine (Calgary, AB-Calgary Renegades)
FERGUSON, Ashley (Pointe-Claire, QC-DDO)
HACK, Mikayla (Regina, SK-Team Sask)
LAPIERRE, Simone (Regina, SK-Team Sask) - Goalie
LAWSON, Emma (Surrey, B.C.-University of South California/Fraser Valley)
LEVIN, Leah (Calgary, AB-Calgary Renegades)
MONTEIL, Capucine (Montréal, QC-CAMO) - Goalie
PATENAUDE, Gabrielle (Saint-Jean-sur-Richelieu, QC-CAMO)
PEIRAVANI, Raha (North Vancouver, B.C.- University of Hawaii/Pacific Storm)
Support Staff
Head Coach: Ethan D'Souza
Assistant Coach: Marina Radu
Team Manager: Eric Graham
Support the Team!
While Water Polo Canada contributes funds to reduce the costs associated with our Age Group National Teams attending international competitions, many of the costs are borne by the athletes and/or their families.
Help support our Canadian athletes by making a tax-free donation at https://waterpolocanada.crowdchange.co/15445/donate. In the comment box, don't forget to mention "2023 Junior Women's Team" so your donation will go specifically toward this program. Every donation received will go directly towards reducing participant costs (training and competition costs, apparel, travel, etc…) for this program and will benefit every athlete on the team.
Your generosity will make a world of difference for this next generation of athletes while they pursue their objectives, achieve their dreams and represent Canada with pride on the international stage!